V-KING
Zurück zur deutschen Version
Efficient dry cooler
The need for cooling in industrial production has been growing continuously for decades. In addition, the requirements in industry and manufacturing are becoming increasingly diverse and complex. Whether process, test bench or machine cooling, food production or deep-freeze storage - specialist knowledge and experience are essential for application-oriented advice and equipment. As a climate specialist, we offer customer-specific solutions for maximum efficiency, combined with high availability and a long service life with minimal operating costs.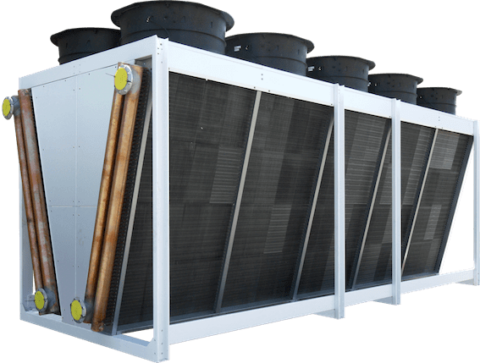 V-KING City (VC)
Compactness and high capacity
V-KING Industry (VI)
Low pressure drop and high performance
V-shaped coil dry cooler for air conditioning or process cooling. Industrial process cooling. Use in free cooling on chiller installations.
High and sustainable performance
5500 models possible depending on the project
Smaller footprint
Optimisation of noise levels depending on the fans selected
Possibility of combined HV/LV circuits
Main applications
Air conditioning, free cooling, co-generation, power plants, process, industry and cooling all kinds of fluids compatible with copper, with a maximum inlet temperature of 80°C.
Description
Advantages

Sustainable performance plus easy and efficient maintenance thanks to non-louvered fins to limit fouling
Large range of products and configurations (5500 models):


2 different fin geometries
2 designs: inline or parallel
2 module sizes: 1200 mm or 1500 mm
Numerous ventilations
Units up to 12 m long

High performance with a small footprint
Reduction of noise level (EC motors, attenuator, etc.)
Reduction of electricity consumption (low-speed motors or EC motors)
Possibility of combined HT/LT circuits:


one product for 2 applications (one low-temperature circuit and one high-temperature)
single coil block to prevent any intermediate fouling
Coil

Consisting of staggered copper tubes and embossed aluminium fins for optimal heat exchange
High and sustainable performance:


Non-louvered fins
Stacked HT/LT circuits (can be selecting when ordering)

Fin spacing 1.9 mm or 2.12 mm depending on application and conditions
Casing

Metal structure, epoxy painted (RAL 9003) for maximum corrosion resistance
Maintenance

Non-louvered fins for easy maintenance (limited fouling).
Air Circulation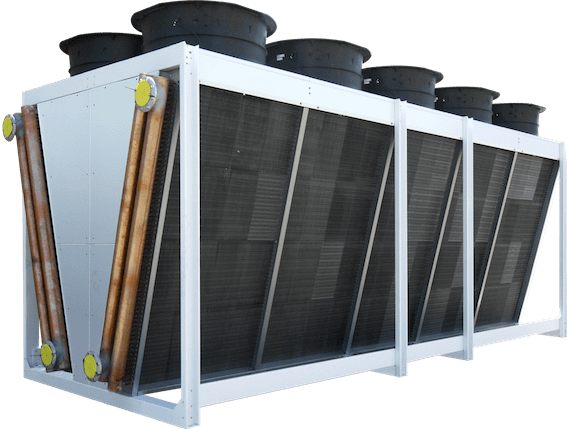 The performance of a dry cooler depends strongly on the operating conditions. With our selection software it is possible to select the most suitable dry cooler for your needs. Please
contact us
.